Paul K. Blair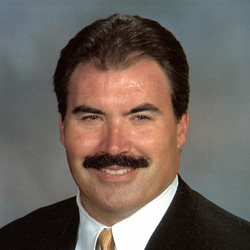 President, Reclaiming America for Christ
As president of Reclaiming America for Christ, Paul Blair reacquaints pastors with their God-called mission to be watchmen on the wall, proclaim the truth of Jesus Christ, boldly stand against the spread of corruption in our society, and walk in the footsteps of colonial pastors who preached "liberty from tyranny," whether from the devil or from tyrannical government.
In 2008, Blair was one of the original 33 pastors who worked with Alliance Defending Freedom on the annual "Pulpit Freedom Sunday."
A former NFL player, Blair serves as Senior Pastor of Fairview Baptist Church in Edmond, Oklahoma. He has appeared on the Glenn Beck Television Show, AFA Radio, the Mike Gallagher Radio Show, Focus on the Family Radio, Washington Watch with Tony Perkins, and more. Pastor Blair and Fairview Baptist Church's radio ministry, Exploring the Word, airs weekdays on Salem Communications in New England, Bott Radio in Oklahoma and WNQM in Tennessee.
George Barna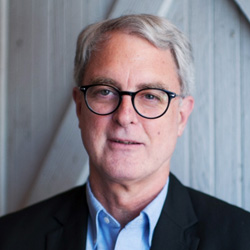 George Barna has filled executive roles in politics, marketing, advertising, media development, research and ministry. He fo…unded the Barna Research Group in 1984 (now The Barna Group) and helped it become a leading marketing research firm focused on the intersection of faith and culture before selling it in 2009. Through the Barna Group, George has served several hundred parachurch ministries, thousands of Christian churches, and many other non-profit and for-profit organizations as well as the U.S. military.
He currently serves as the Executive Director of the American Culture and Faith Institute (a division of United in Purpose), and is President of Metaformation, a faith development organization.
Barna has written more than 50 books, mostly addressing cultural trends, leadership, spiritual development, and church dynamics. They include New York Times bestsellers and several award-winning books. His works have been translated into more than a dozen foreign languages. He has sold more books based on survey research related to matters of faith than any author in American history.
His work is frequently cited as an authoritative source by the media. Barna has been hailed as "the most quoted person in the Christian Church today" and has been named by various media as one of the nation's most influential Christian leaders.
A frequent speaker at ministry conferences around the world, he has been on the faculty at several universities and seminaries, and has served as a pastor of a large, multi-ethnic church as well as a house church, and has helped to start several churches.
After graduating summa cum laude from Boston College, Barna earned two Master's degrees from Rutgers University and has a doctorate from Dallas Baptist University.
After attending high school and college together, George and his wife Nancy married in 1978. They have three adopted daughters and one grandchild, live on the central California coast, and attend Mission Church in Ventura. He enjoys reading, music, rooting for the Yankees and Lakers, and relaxing on the beach.
David Barton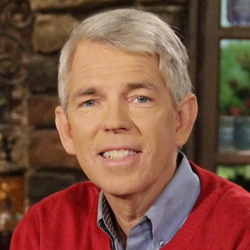 David Barton heads WallBuilders, a national pro-family organization that presents America's forgotten history and heroes, with an emphasis on our moral, religious, and constitutional heritage.
David is the author of numerous best-selling books, with the subjects being drawn largely from his massive library-museum of tens of thousands of original writings, documents, and artifacts from early America. He also addresses well over 400
groups each year.
His exhaustive research has rendered him an expert in historical and constitutional issues. He serves as a consultant to state and federal legislators, has participated in several cases at the Supreme Court, has been involved in the development of social studies standards for numerous states, and has helped produce some popular history textbooks now used in schools across the nation.
A national news organization has described him as "America's historian," and Time Magazine called him "a hero to millions – including some powerful politicians." In fact, Time Magazine named him as one of America's 25 most influential evangelicals.
David has received numerous national and international awards, including Who's Who in Education, DAR's Medal of Honor, and the George Washington Honor Medal from the Freedoms Foundation at Valley Forge. His work in media has merited several Angel Awards, Telly Awards, and the Dove Foundation Seal of Approval.
David and his wife Cheryl reside in Aledo, Texas, and they have three grown children, Damaris,
Timothy, and Stephen.
Jeremy Dys, Esq.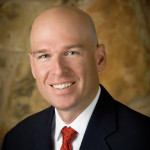 Senior Counsel, First Liberty

Jeremy Dys is Senior Counsel for First Liberty, where he focuses on religious liberty matters and the First Amendment. Dys earned his Juris Doctor from West Virginia University College of Law in 2005. After law school, he clerked for the Hon. Russell M. Clawges Jr., chief judge of the Circuit Court of Monongalia County in Morgantown, W.Va. For six years prior to joining First Liberty, formerly the Liberty Institute, Dys led a public policy organization that advocated for life, marriage and religious freedom. During his undergraduate career at Taylor University, Dys studied at the American Studies Program in Washington, D.C., where he interned with the late David Orgon Coolidge as part of the Marriage Law Project of the Ethics and Public Policy Center.
Bryan Smith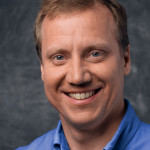 Bryan Smith has worked in Christian education for over twenty years. He has been a classroom teacher as well as a textbook author. Currently, he serves at BJU Press as the Senior Manager for Biblical Integration. In this position he assists curriculum developers and teachers in the work of integrating faith and learning in the classroom. Bryan is in great demand as a conference speaker and as a proponent of Christian education. He holds a Ph.D. in Old Testament Interpretation. He and his wife, Becky, have six children.
Gary Frazier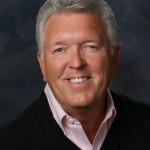 Gary Frazier is a respected writer and speaker on the subject of Bible prophecy, current events and speaks in approximately 50-75 churches and conferences annually. He is a former pastor and has traveled to Israel more than 150 times since the 70's.
Gary founded Discovery Missions International in 1985 located in the Dallas Ft. Worth metro area and serves as the President. Additionally Gary serves as the Executive Director of Churches Impacting Culture, a division of United in Purpose, a non-profit resource and information hub for churches and faith based organizations.
Previously Gary pastored Riverside Baptist Church in New Orleans, served as an adjunct professor in the LaHaye School of Bible Prophecy at Liberty University, and in his spare time as a Teaching Associate at Prestonwood Church in Plano, Texas for his good friend Dr, Jack Graham.
Gary attended Criswell College, Southwestern Seminary and holds both a Master's and a Ph.D. from Louisiana Baptist University. He has also been honored with a Doctor of Humanities degree from Liberty University in Lynchburg, VA as well as a Doctor of Divinity degree from International Seminary in Plymouth, FL.
He has appeared on numerous documentaries and television programs such as the History Channel's "God vs. Satan" and The Apocalypse Code as well as speaking nationally on various radio programs and being featured in a Vanity Fair article. Gary has authored a number of books and video series including Hell is for Real, It Could Happen Tomorrow, Walking Where Jesus Walked, America at the Tipping Point, Signs of the Coming of Christ, The Divine Appointment, The Glorious Appearing and The Arab Israeli Conflict and his soon to be released, The Miracle of Israel. Gary is also a contributor to the LaHaye Prophecy Bible and the Prophecy Encyclopedia. Gary, along with Tim LaHaye and Ed Hindson, traveled America with the "Left Behind conference on Bible Prophecy" hosted by more than 80 of America's largest churches.
On the fun side Gary is a commercial, multi engine rated pilot and an avid golfer.
Gary and his wife Sandra along with four grown children and eight grandchildren reside in the Dallas/Ft. Worth Metro area.
Sammy Tippit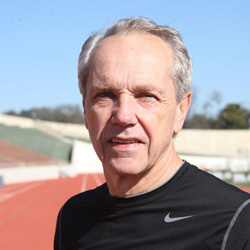 Sammy Tippit Ministries
Sammy Tippit has been a leading voice among Christians around the world during the last few decades. He has proclaimed God's message of peace in stadiums in war-torn Burundi, met with government and religious leaders shortly after the attempted genocide in Rwanda, and brought hope to persecuted believers in the former Soviet-bloc nations.
In March 1999, Tippit preached a historic evangelistic meeting in Addis Ababa, Ethiopia, with more than 300,000 people attending over four days. In May of that same year, he preached in Maracana, the world's largest stadium, located in Rio de Janeiro. Not only did thousands come to Christ, but the event was also attended and supported by the governor, vice governor and mayor of the city and state. Tippit continues to share the Gospel worldwide and currently preaches at some of the largest evangelistic meetings in the world.
Steve Scheibner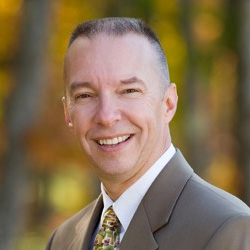 President, Character-health Corporation
A highly sought after motivational speaker, Steve Scheibner is President of Character-health Corporation, a ministry designed to equip parents to train a new generation of courageous, Christ-like, character-healthy problem solvers. A former pastor and pilot for American Airlines, Scheibner served 29 years in the United States Navy, where he developed, wrote and taught a leadership course, titled "The Eight Practices of the Proactive Sailor," to more than 12,000 sailors in just eight years.
Scheibner was scheduled to co-pilot American Flight 11 on the morning of September 11, 2001. Through an incredible set of circumstances, he was bumped from that flight, which was the first to be hijacked on that terrible day.
Scheibner holds a bachelor's degree in Economics from West Chester University, master's degrees in Theology and Christian Ministry from Calvary Baptist Theological Seminary, and a Doctor of Ministry from Gordon-Conwell Theological Seminary. He and his wife, Megan, have been married for 29 years and have eight children.